When I ventured to New Hampshire and Maine with three other intrepid collectors in search of aquamarine, topaz, smoky quartz, and other pegmatite riches, we  did not pass by the planet Mercury (see posting of June 30, 2016).  However, we did find an interesting spot to collect a little graphite.  The site is in extreme eastern New York between the northern end of Lake George and the southern end of Lake Champlain.  Along Pulpit Road, one half mile east of Route 22 in Putnam, NY, a large pile of boulders lay just 50 feet off the roadside.  Bob, Linda, and Gary provide scale to the boulders in the cover photo.
Coarse grained granitic rocks and a very siliceous schist/gneiss contain centimeter-sized brilliantly grey and reflective graphite crystals.  They seem best collected by simply breaking the large boulders to expose the graphite which is brilliantly offset by the bright white quartz matrix.  Millimeter sized red apatites were also present in the matrix.  We did not observe the rose quartz that Beard (2014) had noted.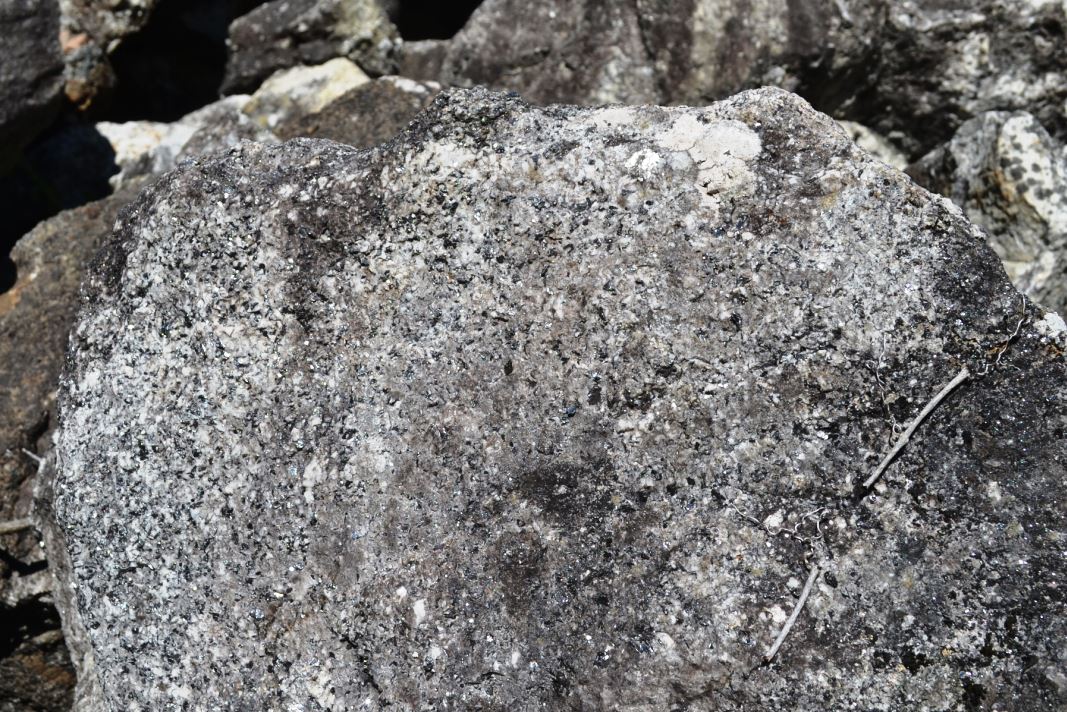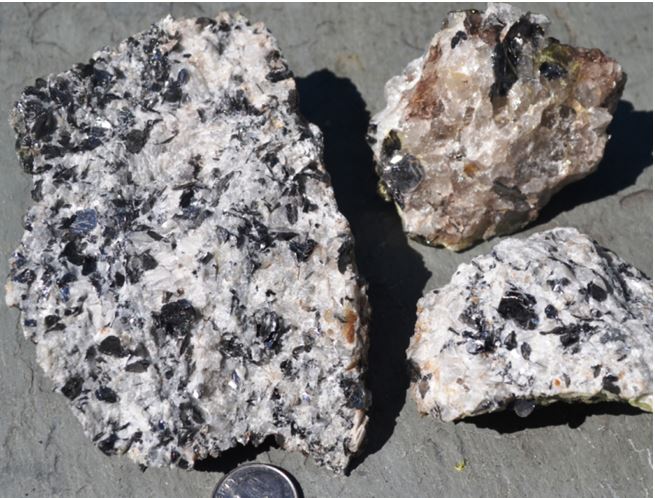 Beard (2014) reports that the weathered lichen-coated boulders likely came from a nearby graphite prospect.  There are many prospects and even late 19th century-early 20th century mines to the north near Ticonderoga and to the south near Whitehall (Alling, 1917), but none in the Putnam, NY region of Pulpit Road.  New York was actually the world's largest supplier of graphite during the first two decades of the 20th century.
References:
Alling, H.L., 1917, The Adirondack Graphite Deposits, NYSM Bulletin #199, 162 p.
Beard, R, 2014, Rockhounding New York, A Falcon Guide, site #18, p. 67-68.