The door prizes at the June meeting of the Wayne County Gem and Mineral Club consisted of a bucket of miscellaneous unpolished slabs from the club collection.  Linda Schmidtgall had scoured the club collection and accumulated a wide variety of colorful and unique pieces.  She set them in water for folks to make their selection.  When my number was called I picked out a unique volcanic rock slab.  It was an end cut, which meant one surface was raw.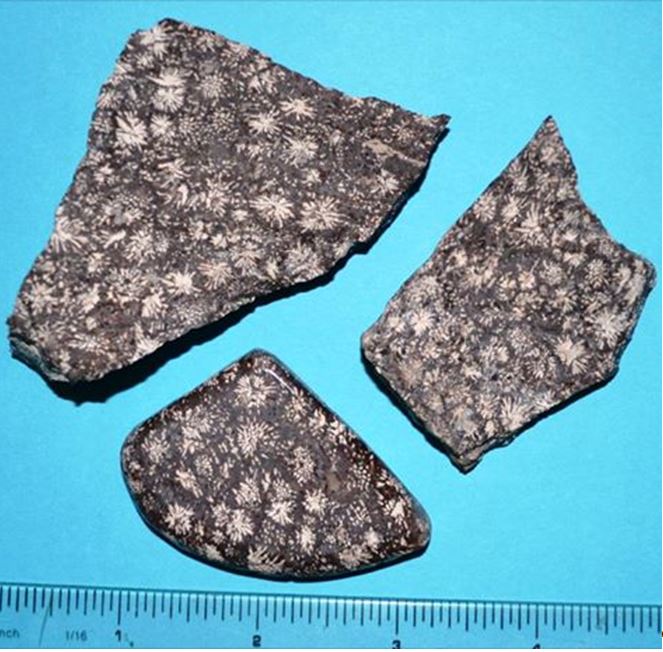 As many know, I collect interesting rocks which tell a geologic story, with a bias towards so-called "hard rocks", both igneous and metamorphic.  Fortunately I already knew a bit about this rock.  On the joint WCGMC-NPGS summer trip to Thunder Bay in 2016 we met a couple from British Columbia.  They had collected similar rock in their home province and they traded pieces with each of us (see photo in next column).  But all I truly knew was that the unique porphyritic rock came from Vancouver Island, British Columbia and that it had been collected on a beach.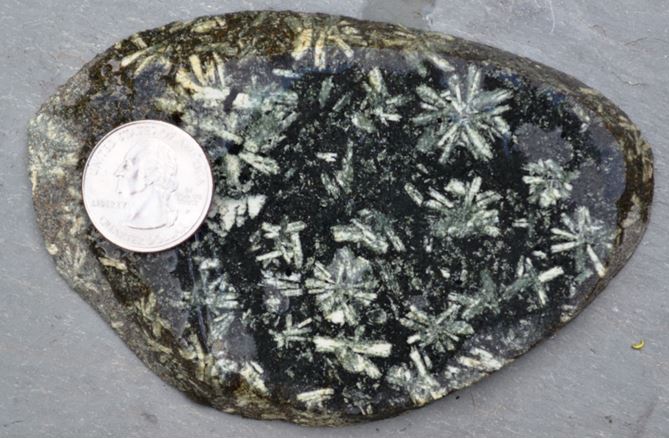 Now with multiple samples I wanted to know more.  Could I learn the composition of the groundmass to name the rock properly?  What age was it?  How did the unique snowflake or flower character of the feldspar phenocrysts originate.  Naturally, I turned my computer on and began to investigate.  Turns out it was not that simple.  I found the rock variously labeled as porphyritic gabbro and basalt porphyry.  OK, which is most appropriate?  Is this best classified as an extrusive or intrusive rock?  The groundmass is quite fine grained, but one can see other crystals besides the flowery feldspars.
Furthermore, Vancouver Island has a complex geology and there are at least two ages of volcanism that produced dark volcanic rock, Devonian and Triassic.  The technical papers on the various rocks did not seem to include a description of the phenocrysts; the lapidary/rock hound references referred to the rock affectionately as "flowerstone", but contained insufficient geologic input.
I did find an excellent summary of the geology of the Island by a professor at Malaspina University, which is on Vancouver Island.  So, I wrote to Dr. Steven Earle and he replied promptly with the following:
"I believe that most of the "flower" porphyritic rock of Vancouver Island is from the Triassic Karmutsen Fm. There are feldspar porphyries in the older (Devonian) Sicker Gp. rocks, but I've never seen any flower patterns in those.  I would call this basalt porphyry because most of the rock is sufficiently fine-grained to be volcanic. I am not certain of the origin of the flower texture, but my recollection is that it has something to do with electrostatic attraction between feldspar crystals in the magma.  The feldspars are plagioclase which tend to the anorthite end member."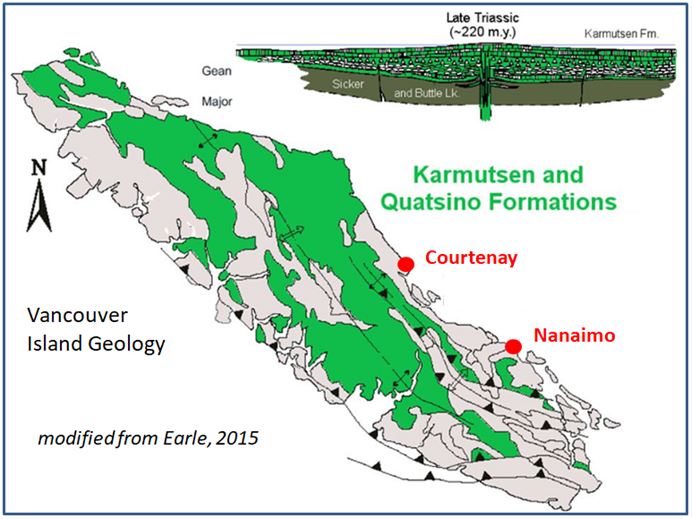 I also learned that "flowerstone" can be collected on the beaches between Nanaimo and Courtenay on the east side of the island (Burnett, 2015) and there are other smaller islands in Vancouver Sound where it has been found.  However, Vancouver Island is 2900 miles via US roads (or 4700 km across Canada!) from Rochester, New York.  I've decided that is a bit too far for a field trip so I am very happy to have acquired my specimens from a collector and from the club.  And now I am equally happy to be able to label them properly!
References:
Burnett, S., 2015, Vancouver Island rockhounding tips, website
Earle, S., 2015, The Geology and Geological History of Vancouver Island, website presentation
Note:  Although so-called "chrysanthemum" stone from China appears similar it has a sedimentary origin and is both mineralogically and geologically distinct from British Columbia basalt porphyry.