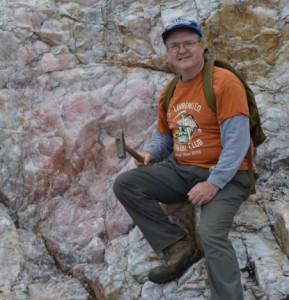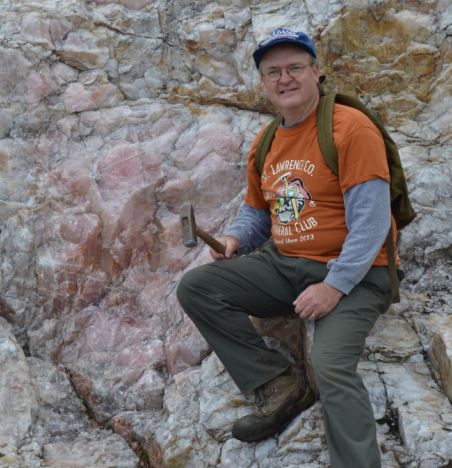 I am a retired geologist now living in Rochester, New York.   My hobbies include gardening, mineral and fossil collecting, and stamp collecting.
However,  my web design skills are rather rudimentary and you may not find this site totally satisfying until/unless I upgrade them.  For now, though feel free to check out my blog for general entries and some mineral and fossil site entries.  Some helpful ways to navigate the site from the home page:
Expand the dated archive section to months or even entries
Use the Categories to shorten the list of entries as desired
Use the Tags as sort of an index to find items of interest
Click on the menu items at the top in green for links to New York mineral and fossil location entries
Note: if you are viewing on an Ipad, both the Menu Items and the tags from the left sidebar have been moved to the bottom of the page, you must scroll all the way to the bottom to find them.  Truly, a nuisance, but I have not found a work-around.
New York is rich in mineral and fossil collecting sites.  Many have been known for a hundred years or more, but others are being found every year.  One purpose of this site is to capture personal knowledge of sites I have visited, and others that I would like to visit.  This input may include maps, field pictures, mineral photos, and literature references.   It is not meant to be complete in any category, and I intend to continually add to the site as I explore New York geology and minerals.
In addition to this blog, I am also the editor for the Wayne County Gem and Mineral Club newsletter.  That monthly newsletter contains news on interesting sites for minerals and fossils as well as news about collecting trips that active organization held or plans to hold.  The club's motto is "Always looking for places to dig".  All past issues of the WCGMC newsletter can be accessed from the website home page and the Newsletter link on that page:
 http://www.wcgmc.org   —  Wayne County Gem and Mineral Club  Facebook link:   Wayne County Club Facebook Page Link
As the winters of my retirement continue, I am hopeful that I will begin to fill material in from another of my hobbies, stamp collecting.  Much of that comes from my role as editor of the Rochester Philatelic Association quarterly newsletter entitled "Hinges and Tongs".   Those newsletters can be accessed at
http://www.rpastamps.org/  — Rochester Philatelic Association
Last update to this page — January, 2017