This year (2019) I have become a sand collector, or perhaps in more technical terms, an arenophile ( a lover of sand).  I have now personally collected about 100 different sands, some locally and then on four regional trips (in July to Maine, in August to Michigan, in September to Kentucky/North Carolina/Ohio, and in October to Ontario.   It is addictive.
I collect about a quart of sand in a sealed freezer bag, or less when the sand is sparse or I consider it not to be a good trade sample.  Once home I wash it if necessary to remove organics, dry it completely and save a 20 ml sample in a corked glass bottle for posterity/display/study.  The rest is bagged into 2″ by 3″ reclosable bags (30 ml each) for trading.
I completed my first trade on September 13th at the Wayne County Gem and Mineral Club meeting.   I traded the 30 or so sands on the left (in the photo below) for the sands on the right from two different collectors.  At the time this expanded my collection from about 70 that I had collected this summer to just over 100.  Since then I have made 3 local day trips and consummated six separate trades in the mail.  This has expanded my collection beyond 300 (as of November 25th).   I have a lot to do to get them all cataloged and photographed.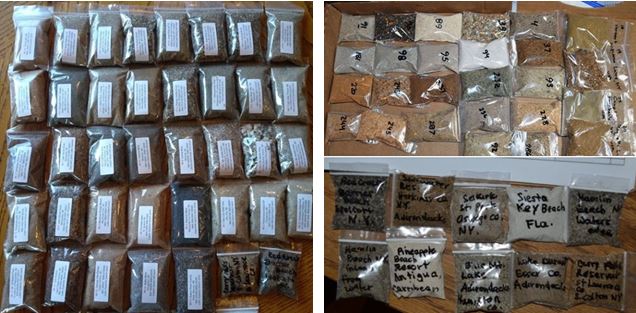 I don't have an objective or plan right now.  It is too early.  But I will just let this new hobby take me where it will.  For those possibly interested my list of sands is linked below.   The "README" file at the far left is designed to help you understand the various spreadsheets, but really the only fully updated files and best to view relative to trading are those entitled "USA" and "Canada".
Sand-Collection-List-January 25 2020                                                         Excel file – the last update was 1/25/2020
I am working on populating a Google "My Map" with my sand samples.  It is incompletely documented, but I don't see any reason it cannot be open for folks to see.   This link (added 9/23/2019 but updated since then) should take you there.  LINK TO GOOGLE MAP OF FRED HAYNES' SANDS  I plan to add microphotographs of each sand in the future along with any other photos I might have taken in the field.  I must have something to do when the snow flies in Rochester, NY.
For now, there are two entries on my blog dedicated to my new endeavor.  Here are the links:
Garnet sand from Lake Ontario –  July 12, 2019                      Arenophilia –   August 22, 2019
last update to this page:  December 1, 2019