All New York mineral collectors have a soft spot for Herkimer diamonds and now there is a comprehensive book dedicated to one of our favorite minerals.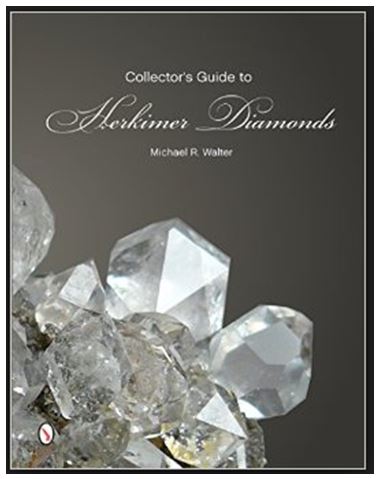 Thanks to Mike Walter, a teacher and mineral dealer by trade, but a true collector by heart, we can learn more about the little (and sometimes not so little) doubly terminated clear quartz crystals than most thought probably could be known.
Mike's book has sections on geology, on history, on the individual mines, and on collecting and cleaning techniques.  He provides hints on where and how to collect and the tools to use.  I particularly like the section on crystal forms and inclusions, which Mike aptly calls "Variations on a Theme".  And all of this is supported by over 230 figures, most of which depict a "Herk", or a set of them, spectacularly photographed.  In total, 96 full size pages of pure bliss for any Herkimer lover.  This 2015 book is a must own for anyone who has pounded on the 500 Million Year old Little Falls dolostone in search of the perfect crystals that grew in dissolution vugs ~325 million years ago.  And the best for last: the list price on the Schiffer Earth Science Monograph is just $19.99 and I was able to order online for a bit less.
————————————————-
And don't forget, the Wayne County Gem and Mineral Club visits Ace of Diamonds Mine on opening day  (April 1) to get our very own "Herks".
The nested Herkimers in the featured photo atop this post were collected by WCGMC member Linda Schmidtgall in April of 2014.