I have a confession to make.  I have become an arenophile.  Fortunately, it is not illegal (unless trespassing while doing it or if you are in Sardinia), and it should not be harmful to my health.  I would say it is generally not contagious, but I did catch it this past spring when Jim Rienhardt introduced us to the hobby in the Wayne County Gem and Mineral Club November 2018 newsletter and later at the March meeting.  I did not realize I was hooked until this summer.  While collecting minerals on club trips to Maine and in Michigan, I looked for sands to collect and proceeded to fill quart freezer bags at a few dozen locations along lakes, rivers, and even from glacial deposits.  You see an "arenophile" is a lover of sand.  The word is derived from the Latin "arena" (sand) and the Greek "phil" (love).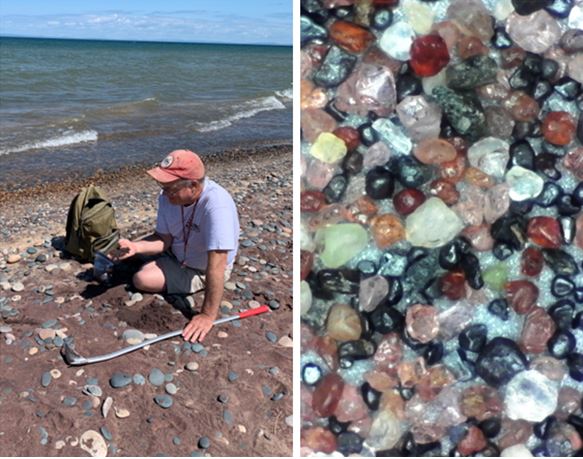 Turns out there are several Facebook Groups comprised of arenophiles who trade sands through the mail using the small USPS boxes to send 30 ml packets of sand to fellow arenophiles around the world.  Jim introduced me to them also.  He gets all the credit (or the blame).
I've yet to initiate an online trade, and it is costly outside the US, but I have begun processing (describing, drying and packaging packets from the 40 samples I have acquired this summer).  When winter comes I suspect I will find some folks with whom to trade.  Since as many as 20 samples fit into the small USPS box, it is easy to accumulate samples rapidly.
Those who attend (or attended) the September WCGMC meeting received a further introduction to arenophilia.  Jim and I plan to trade some of our sands.  I will have packets prepared from Maine, New Hampshire, Vermont and Michigan.  Included will be sands from the shores of four Great Lakes and many rivers, and streams.  There are even sands from mining areas as diverse as pegmatites in Maine to copper stamp mill sand in Michigan.  The recent glaciation about 10,000 years ago left sand behind also and I have some of that.
Jim has an equally impressive list of sands to trade.  We'll swap right in front of everyone at the meeting.  Maybe, we can pass the affliction on to someone else.  If we can convert a few others into arenophilia then perhaps we can form a subgroup within WCGMC; the Sand Clan or some other obnoxious name.  We can have our own meetings and plan our own field trips.  I've heard there are lots of nice sands to collect in the Caribbean.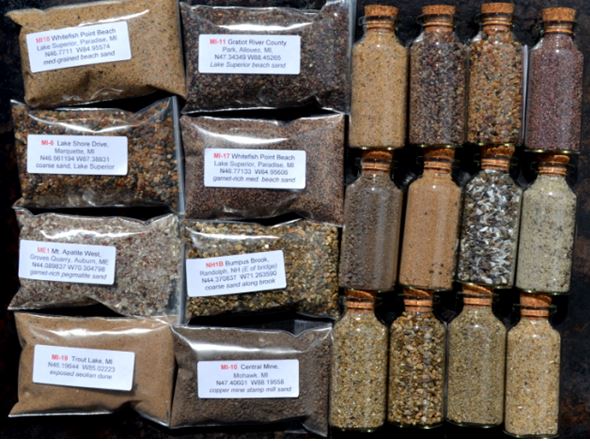 But, you do not have to go to exotic places to collect sand. Sand is virtually everywhere and once you start to look carefully you will see that no two sands are truly alike. There are differences In color and differences in mineralogy. Some sands are comprised of mineral grains, others of small bits of rock. Some sands are well sorted with respect to grain size, others are not. Individual sand grains can be well rounded or they can be angular. Grains can be polished by the transport medium (usually water) or they can be frosted (often when accumulated by wind).
Some of these differences can be seen with a hand lens, others require a microscope. I have found that the zOrb 65x digital microscope I purchased last year is quite adequate to see many of these differences and also affords a method to quickly document them.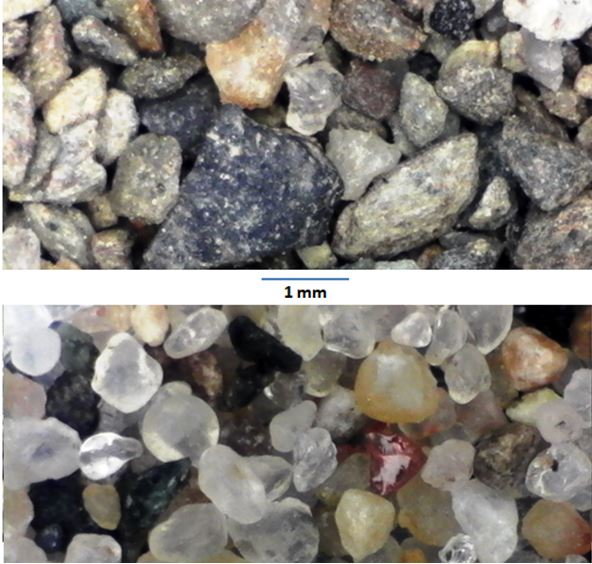 I've got a way to go before I can call myself a full-fledged arenophile.  Perhaps after a couple more collecting trips and some trading, I will earn the title.  And if I graduate from simply being a sand collector to actually scientifically studying the sands I obtain, then I will no longer only be an arenophile.  I will also be a psammologist.  I kid you not.  Look it up!