Article I wrote for August, 2014 WCGMC News
Amphiboles, Apatites, and a Whole Lot More
Wonderful weather and a glorious suite of minerals greeted the eleven WCGMC members who spent 5 days and 4 July nights camping and collecting in the Bancroft, Ontario area.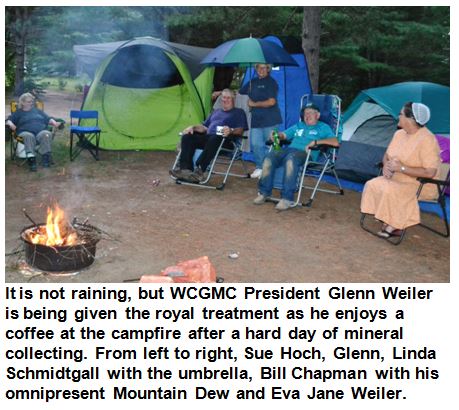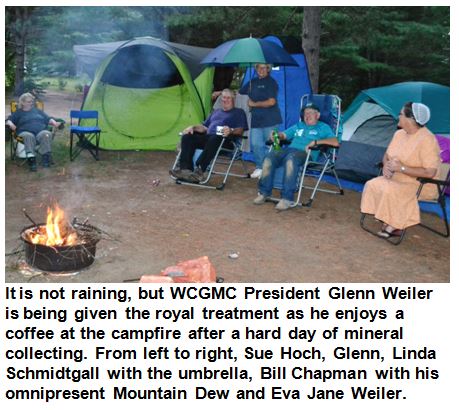 The group did not let moss grown under their collecting feet.  After setting up camp on Monday afternoon, it was off to the Graphite Road outcrop north of town for tremolite and biotite and our first set of mosquito bites.  As a small and readily accessible roadcut listed in the 2013 Bancroft Chamber of Commerce collecting site book, this site is heavily visited, but we still found it worthy of an hour or two of dedicated digging and collecting and quite a few pounds of tremolite and biotite went back to the campsite for cleaning and packing.  Back at the campsite we enjoyed Eva Jane's chicken casserole and dreamed of the huge apatites and titanites to come.
On the first full day of collecting, the troops headed to the Wilberforce Municipal Building to register for collecting on the crown lands off Mumford Road, notably the Schickler fluorite occurrence.  After a thorough application of mosquito repellent and a short hike to the site, digging focused on two spots along the trench where banded light pink calcite and purple fluorite were exposed on the north side of the trench.  While the heavy hitters swung sledges and applied prybars to the trench wall, others sifted the dirt on both sides of the trench for the abundant apatite crystals and rarer titanite that nature had already extracted from the calcite, presumably from thousands of years of organic acid treatment around the root zones of trees.  The 6″ red apatite in the cover photo above is one of Linda's prizes from Schickler;  the purple fluorite and white calcite accentuate the apatite well.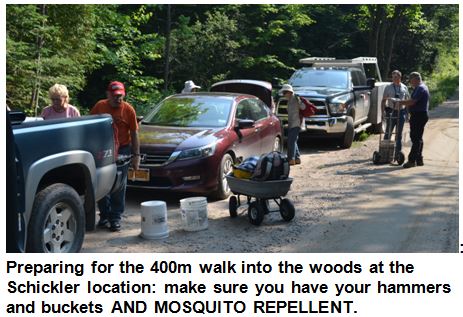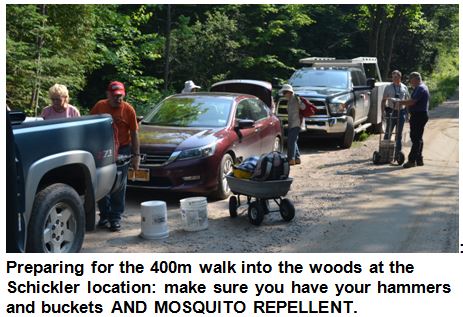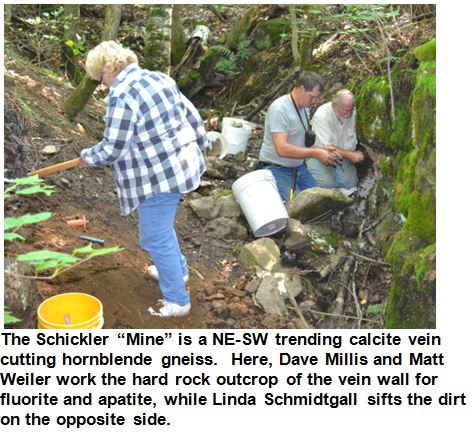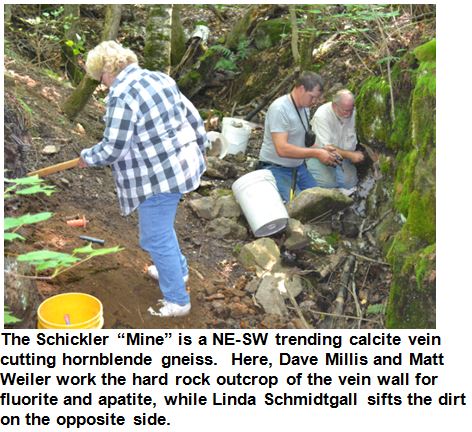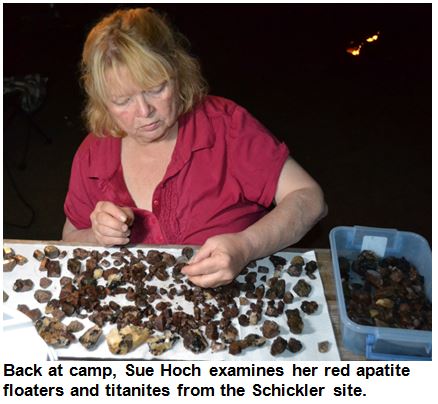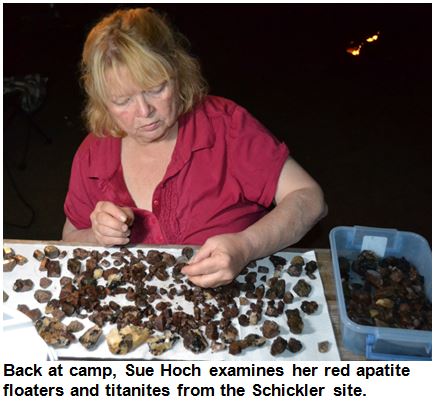 Travelling along South Baptiste Road to our campsite, we made a stop at a rare-mineral bearing outcrop known to contain several unusual borate minerals.  The minerals occur in dolomitic crystalline limestone at contact with granitic rocks.  (Sabina, 1986).  With Van King along to help us , we could identify these microminerals in the host limestone.  We are comfortable that we all saw and sampled warwickite, observing the 2-3mm black prismatic needle-like crystals offset on the white limestone.  Some appear grayish and altered, presumably to anatase.  Again with Van's help, we confidently picked out the yellowish green transparent irregular ball-like masses that are likely sinhalite, also 2-4 mm and set in white to buff limestone.  It is very likely that our specimens also contain szaibelyite, chondrodite, and tochilinite (as per Sabina, 1986), but these identifications will require more than a hand lens to confirm.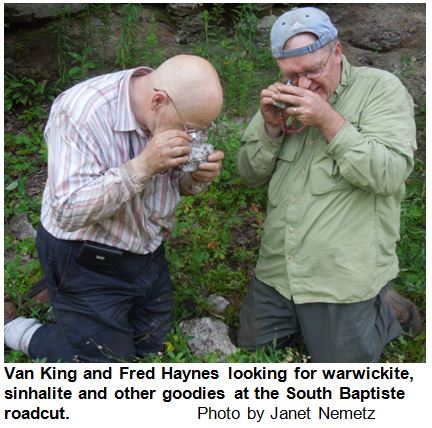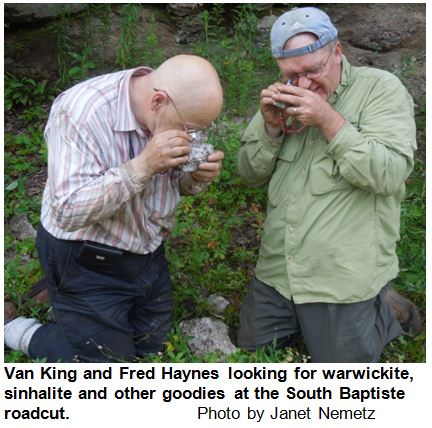 Wednesday was a new day and a new site for the WCGMC.  I led the group to a site 75 minutes east of Bancroft that the Buffalo Geological Society had taken me to earlier in the summer.  About 6 miles west of Eganville, Ontario, this fee-based private site consists of a number of trenches and diggings into numerous calcite veins which contain the full suite of Grenville minerals.  Included are amphibole and pyroxene lined fractures, bright pink calcite with apatite, titanites hidden among microclines and pyroxenes, and biotite books the size of Encyclopedia Britannica volumes (for those of you who remember what those looked like).  And to cap it off a trench hidden 150m into the woods exposes that special kind of microcline we all call amazonite.
And again, whether you like smashing hard rock with a sledge to expose new material or digging in the soft dirt for floaters, this site has it all.  Everyone ran out of energy to dig before they ran out of enthusiasm for the site.  Black flies notwithstanding, the word awesome was used many times by multiple folks as they sought out the best place to sink their hammer or shovel.
What none of us knew while collecting in Eganville was how wonderful the calcite, feldspar and other minerals would respond to a black light.  Once washed and spread around the campsites, we only had to wait until dark to find out.  After enjoying Linda's chili, it did eventually get dark enough for a UV show.  The pink calcite fluoresced deep orange and the feldspar showed a deep velvety red.  Lots of oohs and ahs followed as we inspected our finds.  We will have more to do once home to learn exactly what causes all the variations in UV response: maybe even some scapolite in there?
By Thursday everyone knew better than to show someone else a black prismatic silicate thing and ask what is was. The answer would be "well, it looks like an amphibole, but it could be a pyroxene".  Heck, if it is pretty and you like it, keep it.  If not, it is leaverite and the next guy/gal might take a fancy to it.
One cannot visit the Tory Hill region without stopping at the famous fluoro-richerite roadcut along the Essonville Line, so we did before returning to camp..  Some rock is hard, some is harder, but the crystallized calcite hosting fluor-richterite in this roadcut is the hardest rock known to man, or at least it seemed so as we applied hammer and chisel.  We did get a little, but the crew that returned Friday morning to purchase pieces from a local land owner who had acquired a truckload of it when the road was built in the 1980's now has even more.
Dave Millis may have summed up the trip best when he stated, "It is like we are just one happy family except that everyone is very protective of their hard won minerals." Do you see the bicycle in the picture above?  Eva Jane stayed back one day and walked to town.  Rather than walk back she supported the local economy by buying a new bike at Canadian Tire and riding the 3 miles back to camp!  Glenn was spotted later that night riding the bike over to the shower.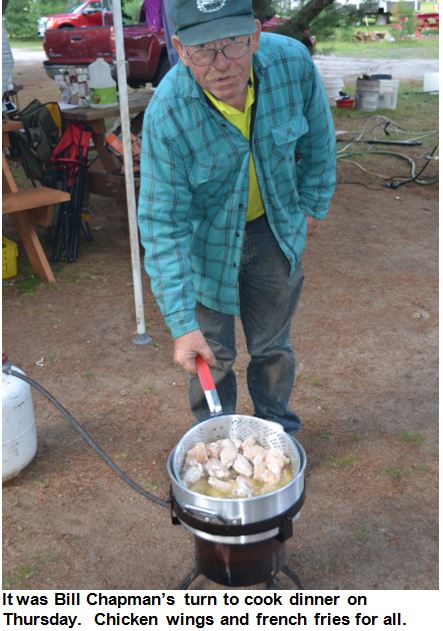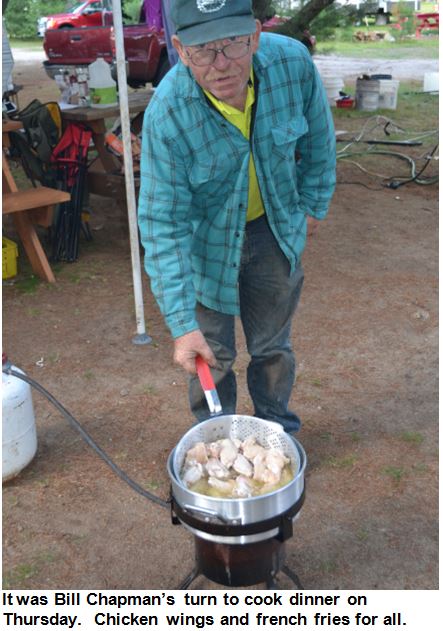 This was my first WCGMC Bancroft trip, but I sure hope it is not my last.  If you enjoy camping, collecting, cooking and camaraderie (the 4 C's of successive rockhounding) then think about joining us next summer when we are sure to venture north again.
References:
Bancroft Chamber of Commerce, 2013, Bancroft and District Regional Mineral Collecting Guidebook, 69 pgs.
Joyce, D. K., 2006, Calcite Vein Dikes of the Grenville Province, Rocks and Minerals, v.81, p. 34-42.
Sabina, A., 1986, Rocks and Minerals for the Collector Bancroft – Parry Sound Area and Southern Ontario,  Geol. Survey of Canada Misc. Paper Report #39, 182 pgs.
Thermistocleous, S. G., 1981, Geology of the Clontarf Area, Renfrew County, Ontario Geological Survey Report 209, 64 pg.