The Barrus Farm pegmatite outside the small hamlet of Lithia, MA has become a regular stop on Wayne County Gem and Mineral Club's western New England field trip each of the past three years.  It is not a large site and the pegmatite there has never been quarried, but it does hold a special place in the world of gemology.  It is the type locality for goshenite, which is white beryl.  Yale University mineralogist Charles Sheppard identified the Barrus Farm white beryl in 1884 and named it after the town of Goshen about 3 miles east of the location.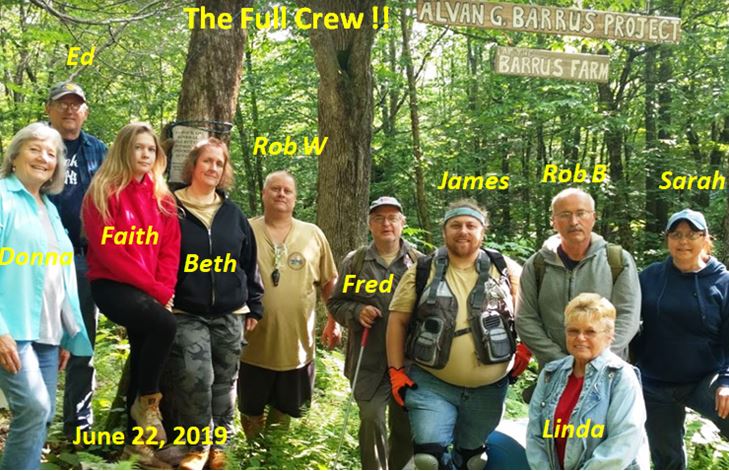 Ten members of WCGMC visited the site on June 22nd.  We were hosted by Rick Cernak, who stewards the site for the Barrus family as the location lies in the woods immediately behind their farm home.  We spent three hours there and most of us did go home with at least one small sample of goshenite-bearing pegmatite.  Identification of goshenite is difficult because it looks a bit like quartz, which is ubiquitous within the pegmatite, however, the quartz is generally smoky or at least a bit cloudy.  When in doubt we asked Rick, who could confirm, or in most cases tells us it was "just quartz".  Rick also found several pieces containing the white beryl and graciously "donated" them to those of us who had not found our own.
Goshenite is not the only collectible mineral at the site.  There is abundant tourmaline (bluish-black elbaite), spodumene (greenish-tan) and pretty yellow-green muscovite (which is present in the upper half of the sample depicted in the title box).  Occasionally the muscovite is even pink.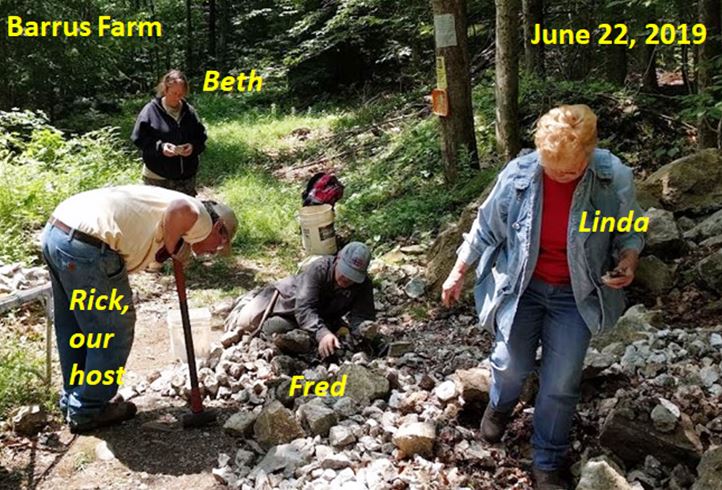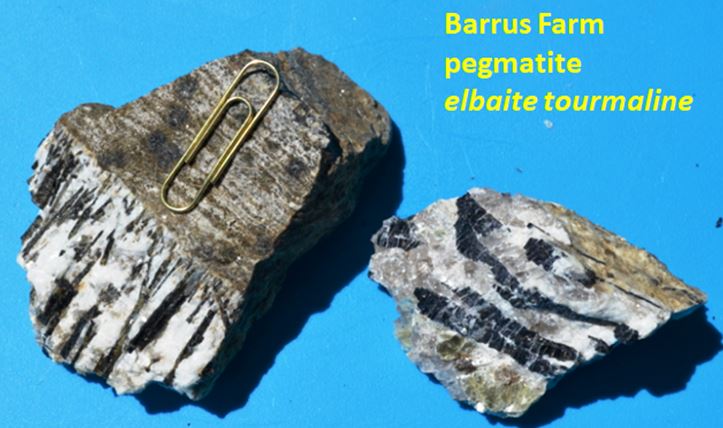 The Barrus pegmatite is unique in that it can best be described as a boulder train occupying about 100 yards along a stream bed.  The larger boulders are the size of small cars which are interspersed with smaller pegmatite float.  However, none appear to be in place and bedrock exposure of the pegmatite has yet to be found.  The slopes to the stream are covered and it seems likely that the resistant pegmatite in the stream bed is hidden under the forest cover.  The host is micaceous schist which should be less resistant than the quartz-rich pegmatite.
The Barrus Farm pegmatite is site #32 in the 2014 Falcon Guide to Rockhounding New England by Peter Cristofono, which is a great book for rockhounds who frequent New England.