written for the Feb-April 2015 issue of Hinges and Tongs  http://www.rpastamps.org/hingesandtongs/ht-2015-02.pdf

Rochester Philatelic Association member Florence Wright  opened the first RPA  meeting of 2015 by asking the 28 in attendance if they knew what these five items had in common.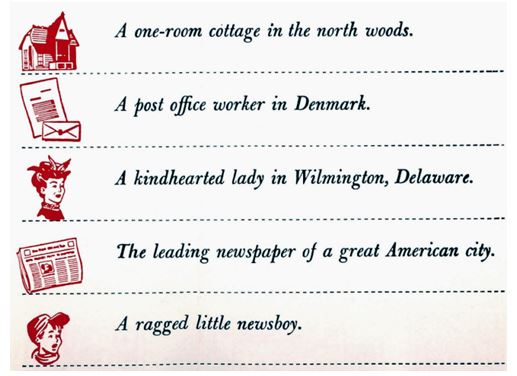 Of course, we knew the title of her talk so it was a bit of a rhetorical inquiry, but we all learned a lot in the next 40 minutes as Florence explained the 108 year history of Christmas Seals.
The one-room cottage in the North Woods was the first true Tuberculosis Sanatorium in the United States in Saranac, NY.  Dr. Edward Trudeau, who had recovered from the disease himself, opened the establishment in 1884.  Hall of Fame baseball pitcher Christy Mathewson resided there before succumbing to the disease in 1925 at the age of 45.
A couple decades after Dr. Trudeau's sanatorium, a post office worker in Denmark, Einar Holboll, created a Christmas stamp to raise money for a TB hospital there.  Emily Bissell, a kind-hearted lady in Wilmington Delaware , sought to do the same in the United States and in 1907 she designed the first U.S. seal.  It sold out and so it began.   Thepopularity of Christmas seals grew exponentially when a leading newspaper of a great American city (Philadelphia's North American) publicized the seal and inspired other newspapers to do likewise.  A ragged little newsboy buying a few seals in support of her sister who had contracted the disease became a poster child for the campaign.
From there Florence took us through the various designs deployed over the years as the campaign moved from raising $135,000 in 1908 to greater than $36 million in 1976.  In 1919 the National Tuberculosis Association, known so well by the red double barred cross, took over the Christmas seal drives from the American Red Cross.  That group has now morphed into the American Lung Association and the mission has expanded to assist in the battle against all lung diseases from cancer to asthma and including pneumonia and emphysema.
It took a long while but both noted founders of the movement also have made their way onto U.S. postage stamps (see below).  On May 31, 1980, a 15 cent stamp was issued to commemorate Emily Bissell.  It was not until May 12, 2008 before Dr. Trudeau was honored with a 76 cent stamp in the Distinguished Americans series.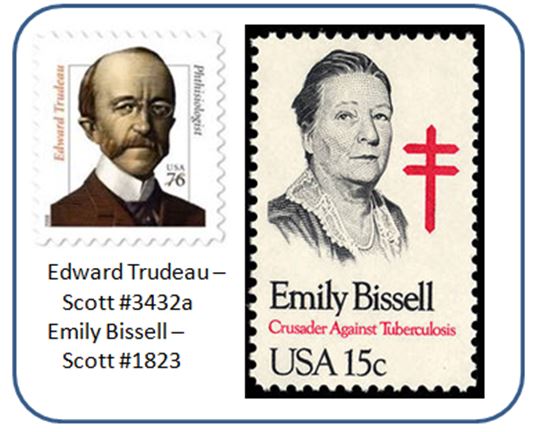 Florence's presentation can be viewed in its entirety on the meeting page of the club website.   http://www.rpastamps.org/presentations/uschristmasseals.pdf