I wrote this note for the Feb-April 2015 issue of the Rochester Philatelic Association newsletter, Hinges and Tongs
The picture above is the Hope Diamond, which was recently acquired by the Rochester Philatelic Association.  OK, that second part is fiction, but there are two bits of interesting philatelic news related to this famous gem.
Did you know that the Smithsonian Institute obtained the Hope Diamond in November of 1958 when New York City jeweler Harry Winston donated the famous gem.  He hoped the donation would stimulate further donations and lead to a world quality gem exhibit.  It did.  You knew all that?  OK, but do you know how the stone was sent from New York to Washington D.C.?  Turns out Mr. Winston wrapped the stone in brown paper and shipped one of the world's most famous and valuable gemstones via USPS registered mail.  The shipment, with insurance, cost him $145.29, of which only $2.44 was for postage.  The Hope Diamond was then valued at 1 million dollars. Below is the envelope used with the meters and auxiliary markings.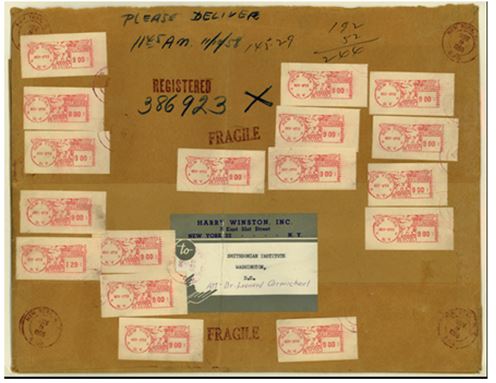 The Hope Diamond is set into a necklace and surrounded by 16 diamonds which exquisitely show off the diamond's size and blue color (page 1 photo).  The blue color is caused by a very small amount of boron (3-5 ppm) distributed in the crystal lattice.  Yellow diamonds owe their color to equally small amounts of nitrogen.  The 45.52 carat Hope diamond, now valued at 200-250 million dollars, has resided at the Smithsonian since its donation 55 years ago.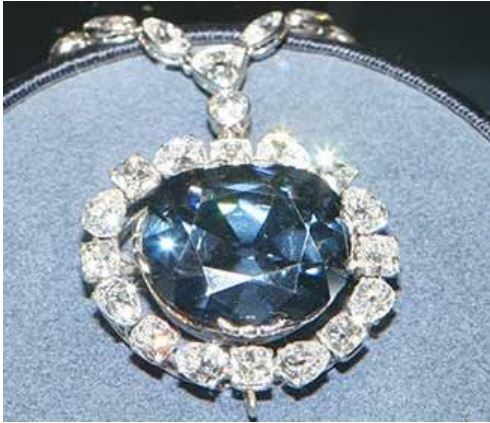 The history behind this diamond is also fascinating, complete with interesting characters, unlucky owners, and enough criminal activity that many believe the stone carries a curse.  Named for a London banking family that owned the jewel in the 19th century, the diamond was originally recovered from alluvial gravel sands along the Krishna River in southeast India in the early 17th century.  Numerous kimberlite pipes that had intruded the Dharwar region of central India about 1.1 billion years ago have sourced alluvial diamonds in several downstream rivers since the 14th century.  [Sorry, your editor is a geologist!]
Did you know that the United Nations had declared 2014 as the "International Year of Crystallography".  It is probably not surprising that when India designed a stamp to commemorate the event, they decided to include a picture of a blue diamond that looks suspiciously similar to the Hope Diamond.