Once in a while I like to combine my two primary hobbies, philately (stamp collecting) and mineral collecting.  This is "once in a while" version 2017.  This summer I participated in two separate week-long trips to Ontario to collect minerals: once with the Niagara Peninsular Geological Society of St. Catharine's, Ontario and once on the annual Wayne County Gem and Mineral Club Canada trip.  Now back home and with October baseball on TV, I decided to revisit my mineral finds and pictures from those trips and mix in a bit of philately.  This first installment focuses on the historic mining district of Cobalt, Ontario, a site visited on both trips.
It was 1903 when silver was discovered by railroad workers some 500 kilometers north of Toronto.  Just five years later the region around Cobalt, Ontario was the largest producer of silver and cobalt in the world and the population had swelled to over 7000.  The district was suddenly at the center of Canada's economic growth.   However, it was a short run in terms of major mining districts with production peaking at 30 million ounces of silver in 1911 and dropping to a trickle by the mid- 1930s.  In total the famous district yielded more than 600 million troy ounces of the precious metal.
Fast forward to 2017, when just over 1000 now call Cobalt home and tourism and fishing are the primary sources of income.  Oh, the evidence of past mining remains ubiquitous from the mining museum in town to the literally hundreds of mine dumps scattered throughout the district.  The former informs visitors of the rich history of the district and displays spectacular silver specimens.  The latter attracts modern fortune hunters seeking that special silver piece that eluded the miners a century ago.  I guess that is where I came in!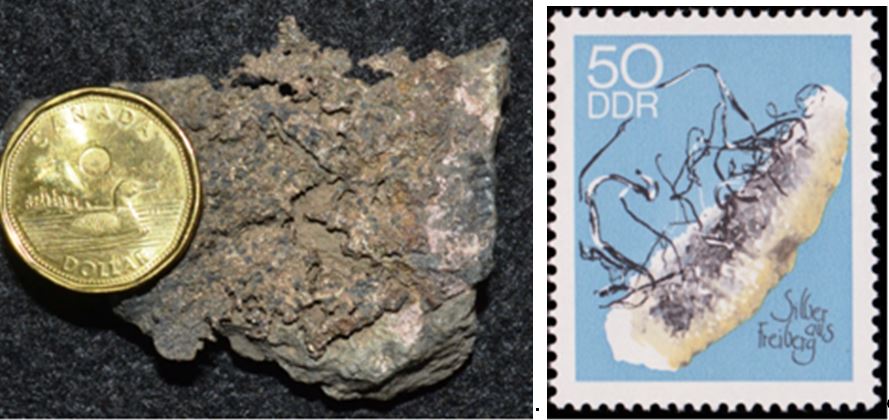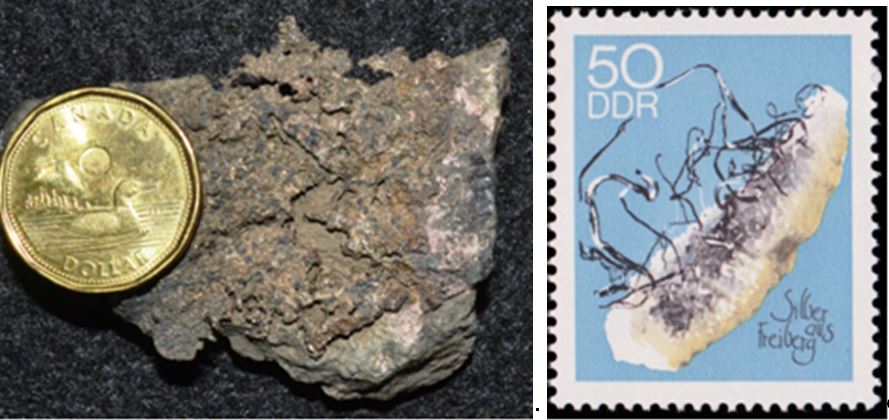 Native silver is hard to find on the dumps at Cobalt.  But I did find a few specimens including the specimen above from the Lawton Mine dump which has been much improved by dissolving calcite that virtually obscured the silver. Native silver has not been featured on a Canada stamp, but the German Democratic Republic did feature wire silver from the famous Freiberg District in 1969.  And in 1998, Norway featured minerals from the Kongsberg Silver District, another unique and famous district where native wire silver and cobalt/nickel arsenides are associated with calcite in hydrothermal veins.
Interestingly, the limited edition first day cover with these same stamps (shown below) also includes a headframe and a commerorative coin featuring Rorøs, another famous Norwegian mining district.  Rorøs is known as the copper capital of the Scandinavian country.
The cobalt arsenide minerals (cobaltite, safflorite, etc) often oxidize at the surface to erthyrite.  This cobalt arsenate mineral is easy to spot on the mine dumps and can signal underlying arsenide minerals with associated silver.  It typically occurs only as a film or botryoidal coating on the Cobalt mine dumps, nothing like the fine purple-pink crystals found in drier arid regions.  However, it was an important mineral for prospectors in Cobalt as its presence was a signal for silver nearby.  The early miners called the pink/purple secondary mineral "cobalt bloom".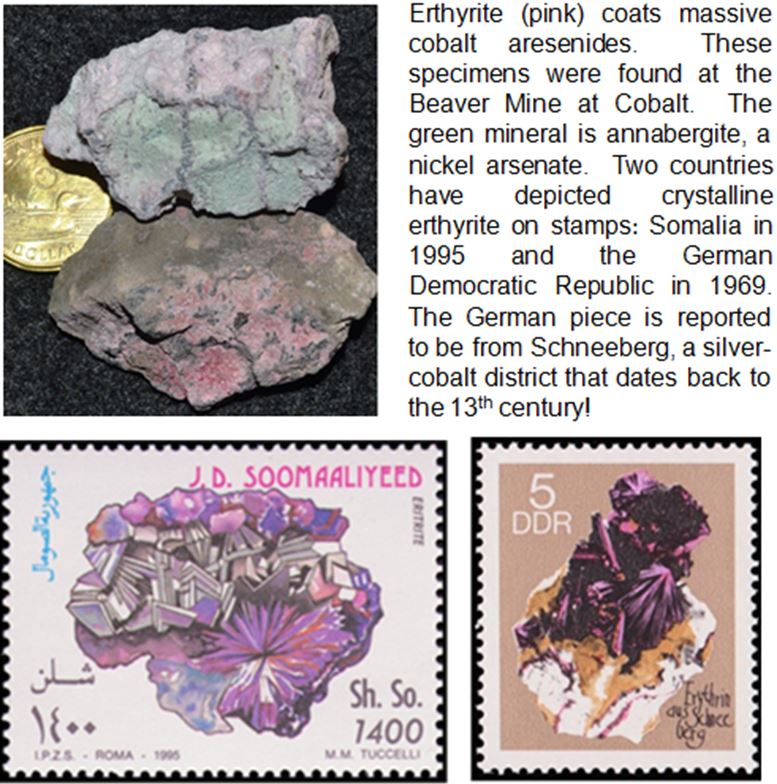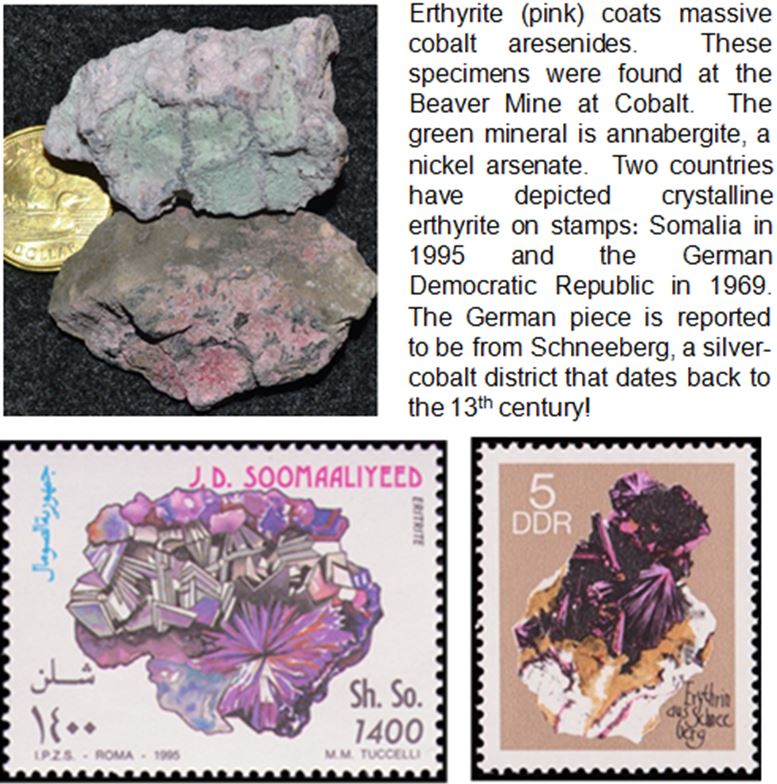 Another thing we like to collect from the dumps in Cobalt is old drill core .Because many of the silver veins had limited exposure they were hard to find.  The mineralized veins were best found by core drilling in the underground workings.   Cores that did not penetrate vein material were simply discarded.  Much of the host rock is a very dense diabase (or dolerite if you are British).  The plagioclase laths and pyroxene in the mafic igneous rock are generally well interlocked and the cores generate wonderful ringing tones when suspended in air and struck.  Afars and Issacs depicted diabase's texture when they issued a stamp depicting a thin section view.
Next time I decide to merge hobbies, perhaps I can focus on garnets, or fluorite, or maybe NY minerals!