Winter is coming to upstate New York so I decided to take us to the desert for this month's column, specifically to the large, generally flat dry lake beds of Death Valley National Park in California.  For decades scientists have observed large rocks strewn about the playa surface and speculated about how they got there.  Often they are found with long, sometimes curved tracks suggesting movement across the desert surface.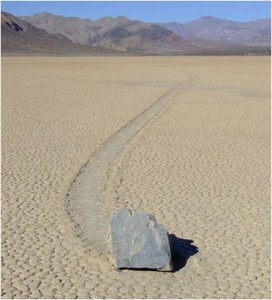 In the past, many theories were proposed to explain how rocks, some as heavy as 700 pounds, could slide or sail across the dry lake bed creating a furrow or trail in their wake.  Hurricane force winds and muddy playa surfaces were suggested.  Slick algal mats present during rare wet periods and thick ice accumulations were also proposed, but experiments and models developed with these ideas could not duplicate the phenomena.  Furthermore, it did not seem reasonable that roving herds of pronghorn antelope had entertained themselves by pushing stones around while no one was watching.  Besides there were no hoof prints!
After more than seventy years of attempts to solve the mystery of the sailing stones, Boise State professor Dr. Brian Jackson and his colleagues finally caught the stones in action this past year.  As the stones can be dormant for decades, Dr. Jackson installed weather stations with cameras and fit 15 stones with sensitive motion-activated GPS units.
His work was rewarded last December as a complex set of conditions set the stones into motion.  First, rain coated the playa surface with a layer of water.  As nighttime temperatures drop, the "pond" froze to form thin sheets of ice, thin enough to move freely but thick enough to maintain strength. The following morning, the ice began to melt and break up into large floating panels, themselves buoyant above the mud surface despite the large rock atop them.  Light winds drove across the playa, pushing the rocks in front of them and leaving trails in the soft mud below the ice rafts.  The GPS and observation cameras revealed that winds on the order of 3-5m/second (~8-10 mph) caused the movement and the rock laded ice rafts moved about 2-6 meters per minute.  Who says geology is not interesting!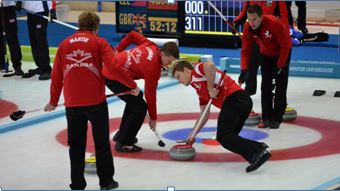 Do you think these curlers might have been able to figure this out just from the shape of the furrows left by the stone? Perhaps those playa stones would have moved further and curled less at the end if these guys had been on the playa with brooms?
Reference:
Norris R.D. et. al., 2014,  Sliding Rocks on Racetrack Playa, Death Valley National Park: First Observation of Rocks in Motion. PLoS ONE 9 (8): e105948; doi: 10.1371/journal.pone.0105948
http://www.sci-news.com/physics/science-death-valley-sailing-stones-02148.html,  Sept. 14,2014