"Site of the Month" article I wrote for Nov. 2014 WCGMC News
More than two decades ago, WCGMC member Stephen Mayer did his M.S. at SUNY-Fredonia focusing on the stratigraphy and fossil assemblages of the Jaycox member of the Ludlowville Formation.  A small creek on the east side of Canandaigua Lake provided wonderful exposure of the section and became the key exposure for his work.  On Saturday September 27th Stephen returned to his old haunt, this time leading 17 members of our club on a fossil hunt at Green's Landing.   Naturally we learned a little about the local stratigraphy from Stephen also as we hiked about 1200' up the creek, mostly through Wanakah member shales.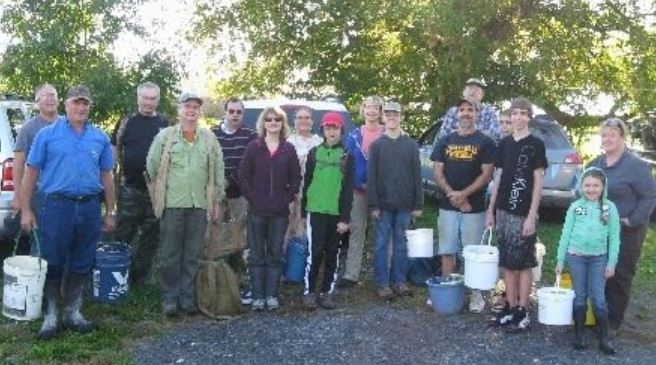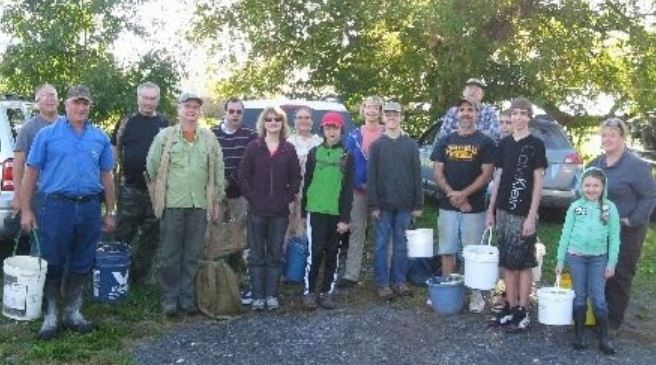 Everyone was clean at this point !
For example we learned that the Jaycox member is capped by the thin Tichenor limestone, itself a target for fossils.  With its increased carbonate content, this Middle Devonian unit is a resistant marker in many of the creeks leading into the Finger Lakes forming waterfalls and promoting the exposure of the Jaycox unit immediately below.  We also learned about the two fossil-rich beds in the Jaycox, the Cottage City Coral Bed and the aptly named Green's Landing Coral Bed.  Large horn corals (Heliophyllum halli) can be found in each along with the colonial species Eridiophyllum and various Favosites species. The trilobite hunters were also not disappointed, a few partial and one complete Eldredgeops rana, a fairly complete DiPleura, and a nice Monodechenella macrocephala (see below) were found by members of the "search team".  Partial pygidium molts were found scattered in the various units.  Of course, many of the units are literally teaming with various small and mid-sized brachiopods.  One of the better finds, a complete Megastrophia conacava, is pictured below.  For more pictures, turn (or scroll) the page.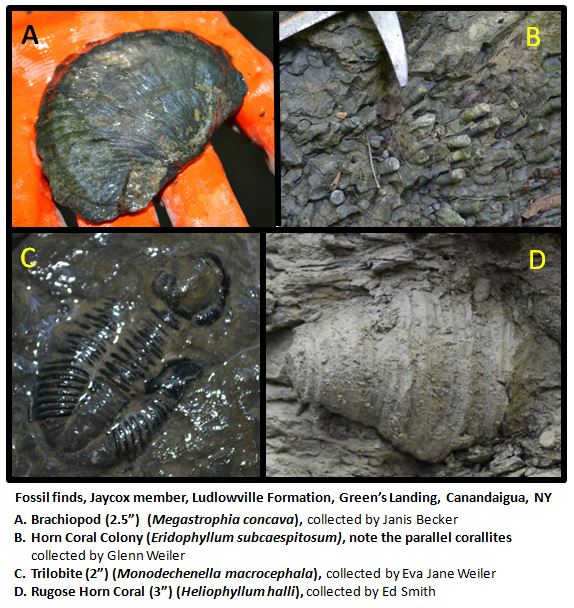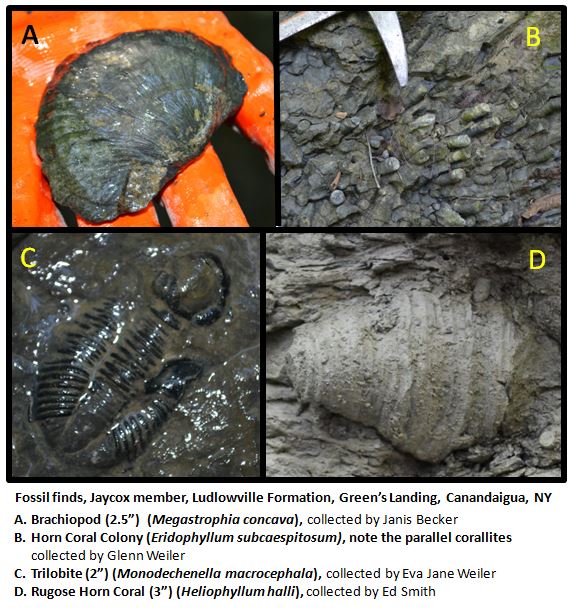 Green's Landing is on private land.   The property is an active ranch complete with livestock and electric fences.  Permission to collect is absolutely required to visit this location.
Some more pictures of the "hunt":
More action in the creek.