Article I wrote for the June-July, 2014 WCGMC News
SELLECK ROAD, POWERS FARM
On June 21-22, the WCGMC returned to St. Lawrence County for more mineral fun.   Green growth now obscured the rocks a bit and mosquitoes and black flies greeted the 19 club members who arrived at Selleck Road in Pierrepont on Saturday morning.   The two day trip would also include the Powers Farm and two sites where Pierrepont ZCA zinc ore has been stockpiled for road use (or perhaps for collectors?).
The Selleck Road site is in Taylor Creek State Forest about 1 mile west of Route 24 in West Pierrepont.  A hunting road leading south off of Selleck road intersects an east-west ridge that is mineralized by tremolite, fluor-uvite, phlogopite, orange calcite, diopside, and a host of other minor minerals.  (see Chamberlain and Robinson's 2013 NY Collecting book for details on Selleck Road and Powers locations).
The motley, but enthusiast, group of treasure hunters trekked the full length of the ridge to the aptly named East pits at the far end of the ridge.  The main ridge has been known and collected for several decades and while like green tremolite is everywhere much is etched and somewhat altered.  The East pit has a shorter history of exploration and collection and as a fresher site it offers more opportunity.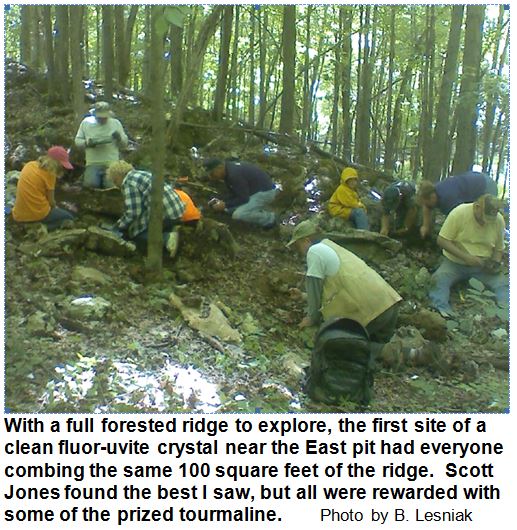 Tremolite was everywhere.  In small pieces and large ones.  Below is a 40 pound "boulder" Ken St. John managed to extract from the forest.  The rosettes of tremolite coated most surfaces.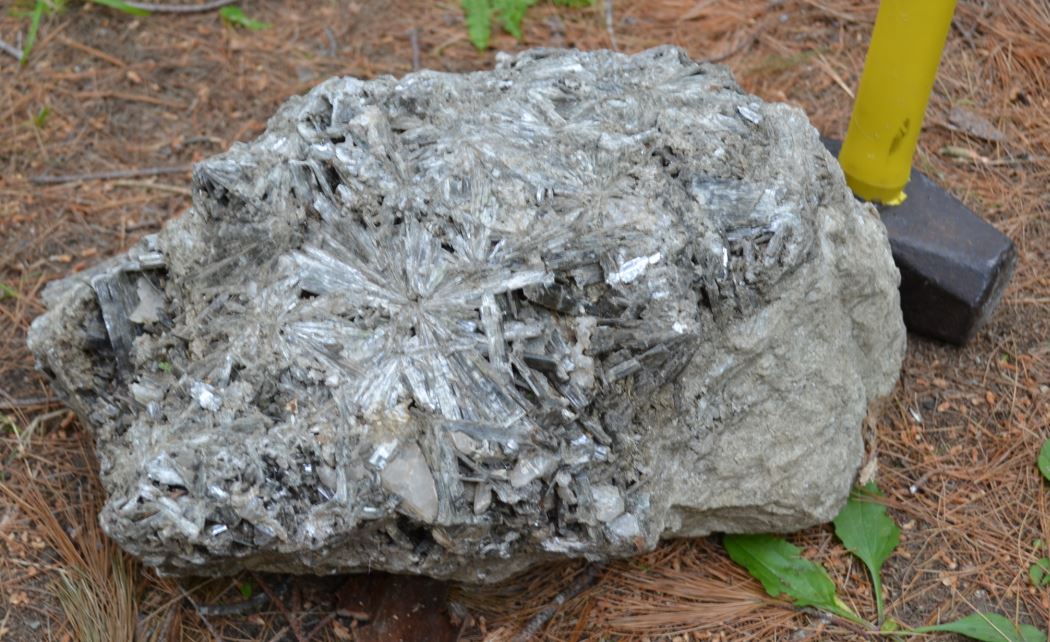 With time to spare on Saturday, Jerry Donahue led us to two sites where the zinc ore and waste rock from the Pierrepont Zinc Mine had been stashed by the highway department, presumably for road use, but perhaps with mineral collectors in mind. The piles contained some sphalerite ore, lots of green and yellow serpentinite,and other Adirondack goodies, (and all right by the cars!), a fine way to close out a successful day of collecting.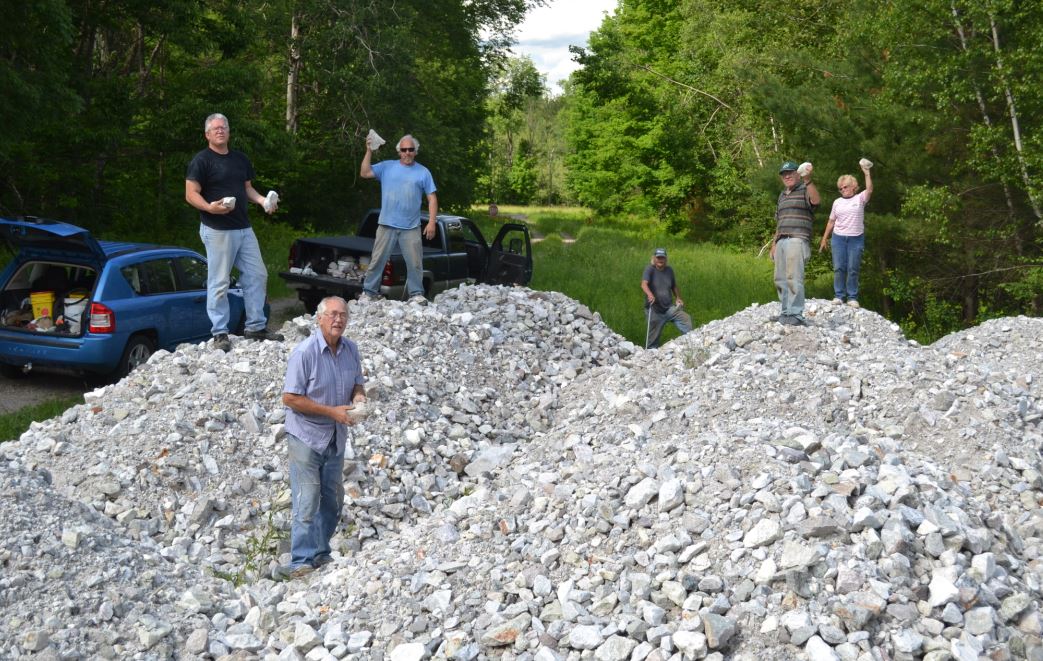 Plenty of Adirondack lowlands metamorphic rock for all.
The Powers Farm portion of the trip was actually a split event.  A few folks with Sunday commitments visited the site on Friday while the main group invaded the woods just east of Leonard Brook off Post Road on Sunday.   The Friday group reported a significant find by Jerry Curcio when a calcite boulder he cleaved displayed a number of terminated shiny black dravite crystals.  But there was still plenty left for those who waited until Sunday.  My two best pieces are pictured on the cover photo to this article.  It is amazing that this oft visited site continues to produce quality specimens for all who venture there.
As with all trips the minerals are not the only attraction to keep a look out for on these trips.  Snakes were spotted on at least two occasions, and glorious ferns grow throughout the wet forest .  Two of us stopped on different occasions to help a stranded painted turtle cross a county road hoping the little fellow did not intend a return trip.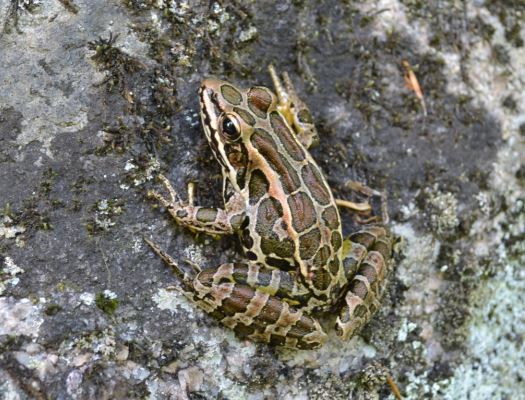 This spotted frog thought he could hide out on a lichen coated rock.  Hed could not and now he is imfamously displayed on my website for the whole world to see,